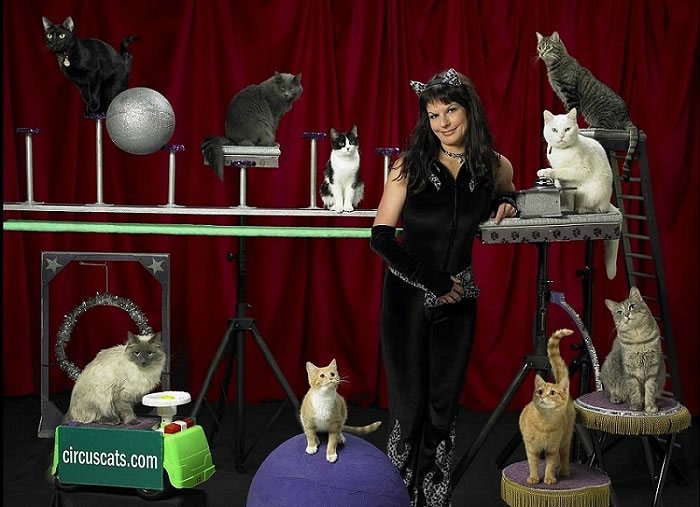 The Amazing Acro-Cats, one of the four cat shows in the United States, perform to sold-out venues across the country. Their performances delight and astound audiences of all ages. They not only perform, but also educate the public.
Samantha Martin teaches the importance of Clicker Training and how it can improve your cat's life and also be useful in the event of an emergency situation. The cats in the troupe are mainly former orphans, rescues and strays. 
Since about 2008, Martin has also fostered many homeless cats and kittens. She brings her fosters on tour, training them and featuring them in the show. Over the years, over 140 foster cats or kittens have been adopted to new homes as a result of these efforts. A portion of show proceeds is typically given to cat rescue organizations, and on occasion the show itself is a benefit to promote a rescue organization.
Martin aims to improve the public perception of cats and to promote their welfare during her show. "We use our show as an entertaining demonstration of what cats are really capable of, as well as the healthy benefits of Clicker Training." Martin demonstrates the clicker training technique in the show, training a kitten or cat to learn some new tricks. She explains that training can build richer relationships between a cat and their humans; can be life-saving in emergencies when cats are trained to go to their carrier at the sound of a whistle; and can prevent behavioral problems, while providing physical exercise and mental stimulation. 
"We hope people are inspired to train their own cats" Martin said. "They enjoy the training. They want you to work with them." Clicker training kits are made available for purchase at shows and online.